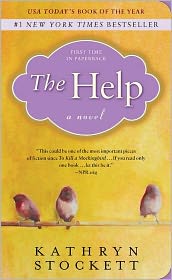 I just started reading The Help. And so far so good. One thing I enjoy is noticing what kind of food they talk about in whatever book I am reading or movie I watch. My first cooking experience based on a movie was making
beignets
inspired by The Princess and the Frog. They are pretty yummy!!
Now I am ready to tackle caramel cake. It was mentioned in the first chapter of
The Help
. I have never tasted a caramel cake but since caramel is one of my favorite flavors I am willing to give it go...and I am sure that Tom won't mind helping me eat it.
The author, Kathryn Stockett, provides a recipe for the frosting
click here
and I found that a few bloggers like
Jen & Company
and
Alpaca Farm Girl
have already posted recipes for the cake. Even Paula Deen has a
recipe
but I don't think I have enough butter in the house to make hers!
There are even some cupcakes inspired by the book made by
Cupcake Project
. And 20/20 did a story on the book and sampled
Caramel Cake
This is a tough decision as to which recipe to try. I may have to break down and try more than one of them.
A strong contender is this one from
allrecipes.com
It looks simple and simple works for me.

I think it might be time for slice right now!