We tried something new that we found at the supermarket. Soursop juice.
It has a sour- sweet taste that is kind of like mixing a strawberry with a pineapple. The juice we purchased was a little too sweet for me. Tom, however, liked it a lot. Soursop ice cream from
Western Dairy
is awesome and I have ordered it several times but for some reason the juice just didn't work for me.
I had to use Google to find a photo of Soursop. And you can read more about it by
clicking here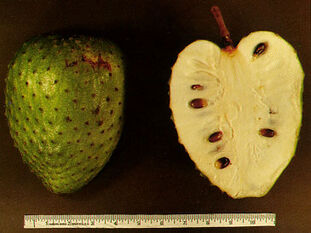 We will keep on trying new things and letting you know what we find. We are going to Orange Walk this weekend to speak at a
CDF
conference and we hear great things about the tacos up there. We have even had some friends ask us to bring some back for them!
to read more Tasty Tuesday posts just click the button: